GemsFlow Mobile App
GemsFlow Mobile App is about all your diamond paintings in one place. Keep track of your masterpieces - see at a glance what paintings you have on hand, which paintings haven't come in yet and which ones you're working on.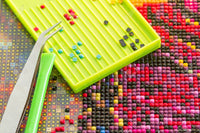 What is Diamond Painting?
Diamond Painting is an exciting art in the truest sense of the word. Once you try yourself in it and it will be difficult to stop. Diamond Painting allows you to create colorful and shining paintings that will decorate your home. The process is similar to painting by numbers, the only difference is that you use diamonds.
This hobby is suitable for both children and adults. It is also a great gift option.
All you need is to choose a picture that you like. And the kit will already have all the necessary tools for work. GemsFlow offers a huge selection of paintings on various topics, so choose the one you like and start creating a masterpiece!